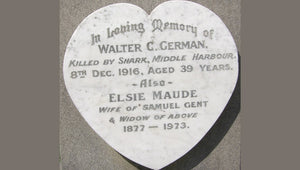 I visited Waverley Cemetery in March 2018 and Walter C German's headstone caught my eye. 'Killed by shark, Middle Harbour' it announced. Who was Walter C. German and what were the circumstances of his attack and death on 8 December 1916? The Daily Telegraph of 26 December 2014 began by describing Sydney Harbour as a 'sinister soup, swarming with giblets that kill'. Despite the age of 39 on his headstone, the article described Walter Cromwell German as a 41 year-old Torquay Point man who was swimming with his wife at nearby Middle Harbour when his left arm was bitten off...
---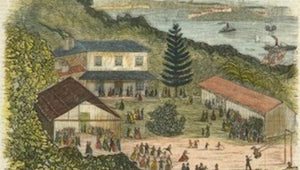 The picnic and pleasure ground known as Athol Gardens, near the Zoo at Athol Bight, was originally a grant of 4 acres made to Joseph Kay in 1831, then passing to Alexander Ferrier in 1836. Ferrier erected two houses on the property, a garden cottage for his family, and a substantial villa named Athol. When advertised for rent in 1845, the villa was described as "consisting of dining and drawing rooms, four bed-rooms, detached kitchen with oven, laundry and rooms above, also extensive garden" (SMH 27/2/1845). Later, servants' rooms, outbuildings, kitchen garden, orchard and paddocks were added. There was a...
---
On 15 February 1922 the Sydney "Sun" announced that part of the Military Reserve on Middle Head, recently opened to the public by the Defence Department, was to be leased for a new golf course. A group of Clifton Gardens residents, led by Mosman Alderman Peter Burrows and Col. Robert Sands, instigated the Mosman Golf Club, with membership to be limited to residents of Mosman.The Club became a registered Company in December 1922, with plans to lease 59 acres from the Defence Department on which a nine-hole links would be constructed. By July 1923 the details had been settled and...
---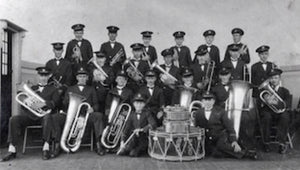 Band music was very popular in the early 1900s, with regular newspaper music columns advertising who was playing where. Mosman had no band of its own, but other suburban and military bands, and the St Clements Fife and Drum Band, provided music for events and processions. However in March 1903 the Mosman Mail reported that "a movement is on foot among local musicians to get up a local brass band". Led by trombonist Mr Bibb, amateur and professional musicians formed our first band which played regularly at Trafalgar Square (Spit Junction). In 1912 Mosman Council agreed to sponsor a brass...