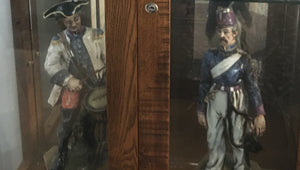 The Garrison Retirement Village is situated in a prominent position at the corner of Spit Road and Punch Street. The provenance of its title and of its very unusual and striking set of statues depicting Napoleonic age soldiers, is a source of much curiosity. There are 4 soldiers, standing perhaps 70cm high and kept protected in a glass-fronted cabinet. They are beautifully glazed, coloured porcelain.No current residents at the Garrison know anything about the origin of the statues except for one person who remembers them being there when they worked at the Garrison Motel during the years before the Uniting...
---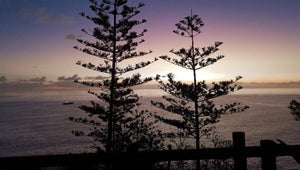 Letter from Mosman Historical Society visit to Norfolk Island 230th anniversary of the wrecking of the Sirius.
---
Mosman has a number of Sirius placenames – Sirius Cove, Sirius Cove Road, the Sirius memorial near the wharf, but what is the connection of the First Fleet flagship HMS Sirius with Mosman? HMS Sirius, flagship of the First Fleet, departed Portsmouth on 13th May, 1787, bound for NSW. A naval ship previously named HMS Berwick, she was chosen for the journey due to her storage capacity. She was refurbished and fitted out as an armed store ship, carrying Governor Arthur Phillip, other officers, marines and crew, large amounts of goods and provisions, but no convicts. Although having been overhauled...
---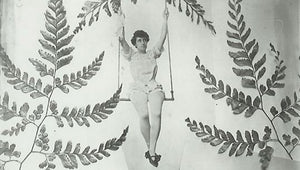 The first known ascent of a gas balloon was made in Paris in 1784, and many further attempts followed. After numerous failures, the first successful flight in NSW was made from the Domain, in front of a large crowd, in December 1858. Over the following decades this fascination with flight grew, and though still perilous, many "aeronauts" took up the challenge. Ascents were advertised to take place at shows, the races, pleasure grounds and gatherings for public holidays, crowds flocking to see this wonderful new phenomenon. By the 1890s Mosman's population was growing rapidly, and local exhibitions of such novelties...
---
From 1850 a punt service, operated by Peter Ellery, transported passengers across the harbour at The Spit. Rough tracks enabled pedestrian and mounted travellers to reach the area, but not until 1880 was a more serviceable road built by the Government, enabling vehicular traffic. This route followed Spit Road to Medusa Street, over Parriwi Headland on the current Upper Spit Road, then down a precipitous slope at the western side of the escarpment to The Spit. Visitors describe wildflowers, beautiful views across the harbour to the Heads, and Middle Harbour to the west. Having built this road however, the government...