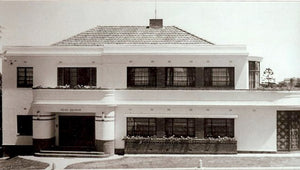 As you walk around Mosman, you will notice many plaques, some commemorating events and well known people, some on buildings and some with unfamiliar names. The Society has been collecting information about many of these plaques, and in the first of several occasional articles in the newsletter, committee member Perry McIntyre shares the story of the Parmentier Bench. The plaque on the bench has the inscription: In loving memory of Jane Parmentier "Memee" A place of great personal joy 1929-2015  Ursula Jane Parmentier née Rhodes, always known as Jane, died aged 85 on 19 February 2015 at her home in Mosman....
---
Houseboats have been a feature at Pearl Bay, The Spit, since the early 1900s. The earliest of them were owned by the wealthy who could afford to convert assorted craft into comfortable weekenders. Jeweller Percy Marks used his as a fishing retreat, and solicitor G.F. Williamson entertained the likes of Nellie Melba on his. A houseboat advertised for sale at Pearl Bay in 1909 had "5 rooms, lavatory, stove, water tanks, cedar boat, partitions that can be moved to make rooms smaller or larger. Price £160." (SMH 30/1/1909). Most had had previous lives as punts, barges, lighters, tugboats, also a...
---
As part of the commemoration of the centenary of Armistice Day 1918, the Mosman Anzac Memorial Hall Trust held a literary competition. Mosman school students were invited to research the story of a Mosman resident during WWI or a Mosman soldier or nurse who had been on the Western Front during the war. The winner was Margarita (Maggie) Dowd, who traced the path of David Samuel Anderson, of 21 Holt Avenue, who was killed at the Battle of Fromelles. The other five finalists were Johnny Austen, Mia Cumming, Daniel Dickeson, Leila Heichmann-Basha and Lucy James. Maggie's prize was a fully...
---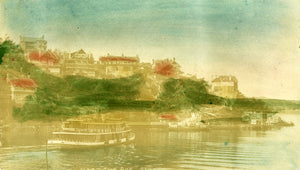 Postcard of Mosman Bay villas, from Mosman Local Studies collection. In December 1907 the Mosman, Neutral and Middle Harbour Resident newspaper advertised "Something Fresh". Organised by the Cremorne Club, a Grand Christmas Carol Festival was to be held at Mosman Bay. An orchestra and choir of 100 trained voices, directed by Mr. A.H. Norman, would perform carols on a barge to be moored in the Bay. The public were invited to watch from the shore, and boat owners to illuminate their craft. Residents on the surrounding slopes were encouraged to add to the festive scene by decorating their homes and gardens...
---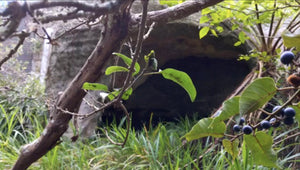 In 1868 there was an advertisement referring to Geary's Cave at Pearl Bay. Empire (Sydney, NSW: 1850-1875) Saturday 11 April 1868 p 1 Advertising EASTER MONDAY – Annual GUILD PICNIC to Middle Harbour. GEARY, the Bushranger's Cave, at Pearl Bay; without doubt, the most romantic and beautiful spot in the colony. (Trove) I looked for Geary's cave at Pearl Bay, Mosman. I found this cave, located on the walking path to Beauty Point. So, who was Geary? William Geary, a native of Limerick, and an artillery gunner, was sentenced to life transportation to NSW by court martial in Lisbon in 1812. He was on the...